Chapter 01: Introduction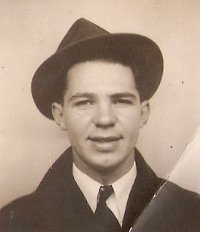 April 1939

Richard A. Beam enlisted in the US Navy on February 15th, 1940. He was soon on his way to Hawaii and the Philippine Islands. In the Battle of the Philippines, he escaped when Bataan fell but was eventually captured on the island of Corregidor, which began three and a half years of imprisonment by the Japanese.

Dad never talked about his war experiences very much. I always thought it was because he wanted to forget about it all. But Mom said he felt that no one would ever believe all of the things he went through, so why bother.

I was lucky to some extent though ... Dad and I used to watch war movies on TV quite often. Hollywood portrayals of WWII events in the Pacific did not always match reality, so Dad would sometimes explain "what really happened."

Sources from Dad that were used for this presentation include the following:
Items from his food cup (scribed while a POW of the Japanese)
USS Biloxi Newsletter Interview (recounted after being liberated)
Items and pictures from his scrapbook (constructed after being repatriated)
US Navy Documents
Other sources used for this presentation include the following:
US Military Archives
Japanese Military Archives (skimpy)
Various accounts from other POW's
Various documents from other POW's families
Credible Internet WWII history sites
Many, many hours of search, research, and validation went into this presentation ... yet I still won't claim it's 100% accurate. The Japanese destroyed most of their POW records before surrendering, even though the US Military told them not to do so. Dad once told me he was a scrounge while imprisoned by the Japanese ... scrounging for information might be the best way to describe trying to document his war experiences.
Oh yeah, folks almost always ask the same question when they find out Dad was in the US Navy during World War II ... "What ship was he on?". So, without further adieu ...
1) USS Savannah (Light Cruiser)
2) USS Minneapolis (Heavy Cruiser)
3) USS Houston (Heavy Cruiser)
4) USS Canopus (Submarine Tender)
5) Nagato Maru (Japanese Hell Ship)
6) USS Biloxi (Light Cruiser/Rescue)
7) USS Rixey (Hospital Ship)
8) USS Sanctuary (Hospital Ship)