Hendersonville, North Carolina
About 6 months after becoming self-employed, we decided to change
things up a bit by moving to Hendersonville, North Carolina. Everything
was quite different from Houston -- higher elevation (about 2400 feet),
four seasons (including spectacular colors in the fall and snow/ice in
the winter), as well as a much slower and more laid back atmosphere.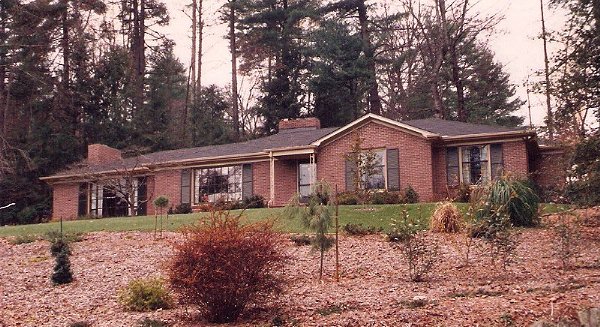 A blind rental for us that turned out OK. Obviously, the area
was quite scenic ... even the house looked great from the road.
Our major problem was a basement that leaked VERY VERY badly!
| | | |
| --- | --- | --- |
| Back of Home | Colorful Back Yard | Lotsa Leaves |
| Josh Cleaning Up Leaves? | Our Leaky Basement | Christmas Time |
| Gypsy Checks Out the Snow | Nice Hat Josh! | Checking Out the Snow |
| Josh and Justin | Julie, Josh and Justin | Justin Enjoying the Cold! |
| No Basketball Today! | Justin Clearing a Path | Gypsy Enjoying the Snow |
| Ice Storm | Pretty Ice Storm | Very Pretty Ice Storm |
| Ice Storm | Bad Ice Storm | Very Bad Ice Storm |
| Justin on Wheels | Josh & Justin on Wheels | Josh & Justin Chillin' |
| Bush 41 in Hooterville | Lotsa Rain Greets the Prez | George, Barbara and Millie |