Houston, Tennessee
We moved to Houston, Texas when I took a job as senior engineer with
Compaq Computer Corporation located on the Northwest side of the city.
Justin was born March 16th, 1987 at Spring Branch Hospital in Houston.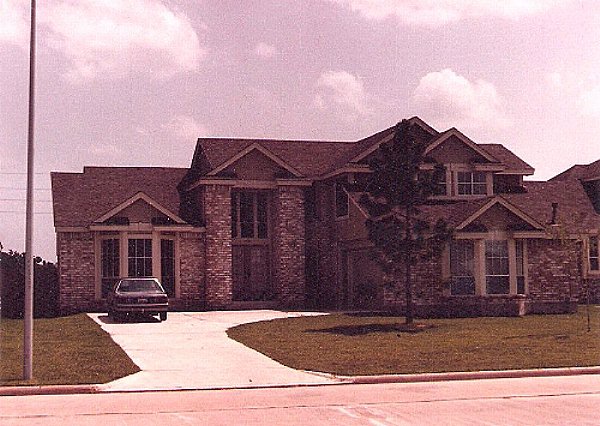 We managed to rent a brand new house in the Bear Creek area of Houston.
Unfortunately, it was a long drive thru Houston traffic each day to work!
| | | |
| --- | --- | --- |
| Justin Birthday (03/16/1987) | Justin Birthday (03/16/1987) | Andrea, Josh and Justin |
| Josh and Justin | Julie, Andrea, and Josh | Josh Lookin' to Score! |
| Swingin' with Gramps | Swingin' with Gramps | Andrea Heads Downhill |
| Ridin' with Gramps | Ridin' With Gramps Again | Andrea Making the Climb |
| Josh Slidin' with Grandma | Josh Slidin' with Grandma | Ridin' With Gramps Again |
| Takin' a Break | Takin' a Break | Andrea Down by the River |
| Andrea -- Sneezing? | Julie and Josh | Both Zonked! |
| Grand Kids/Parents | Josh and Grandma | Josh on a Climb |
| Summer Enjoying Herself | Backyard Swingers | Backyard Swingers |
| Christmas 1986 | Diving In! | Josh Was Good! |
| Andrea Was Good! | Josh Explaining ?? | Josh Chillin' Out |
| Hello Johnson Space Center! | Shuttle Fuselage | Andrea and Josh |
| Andrea and Josh | Josh -- Lost in Space! | All Suited Up! |
| Big Stuff | Really Big Stuff | Really Big Place |
Copyright © 2002-2016 www.K4EXT.com
Site Management by Justin Beam, KG4VBK